Trust Building – Law Enforcement and Community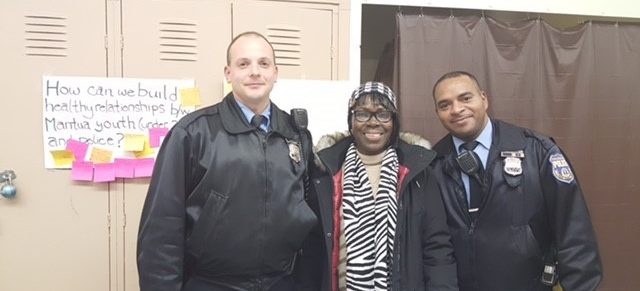 "NCBI has developed a program that recognizes the essential ingredient of community policing - building trust and mutual respect between law enforcement and the community. By strengthening communication with the community, more viable partnerships are able to form and flourish."
"The NCBI Law Enforcement Division has been a valuable resource in the never-ending struggle to understand and balance the cultural difference we so often encounter in our communities and our police departments. The City of Easton Police department has utilized NCBI to individually assess our department and to create a specific training curriculum to meet the needs identified during that assessment. I have been privileged to witness firsthand the value of experienced and compassionate instructors, such as Guillermo Lopez and Fabienne Brooks when dealing with cultural diversity and the challenges that can be created and must be dealt with when communications break down. In first observing this program presented to my department approx. 10 years ago, I was amazed at how productive and important this kind of training program could be. I found that the benefits produced were not only internal but also external and noticed by the community as a whole. As Chief of Police, I have recently re-engaged with NCBI and Mr. Lopez to further ensure our department continues this dialogue and builds on the progress we have gained from previous training. Dealing with cultural diversity and implicit biases has proven to be an ever-growing challenge that demands constant attention; I have found no better partner in dealing with this challenge than NCBI."
"Interactions with citizens is a constant in American policing. How officers communicate critical messages to those who live, work, or are visitors in their communities is essential to safe, positive outcomes of these interactions. NCBI's work to enhance the capacity of the police to communicate successfully with citizens is both timely and of significant value to our officers and the people they serve."
Recent work with law enforcement agencies and their communities convinced NCBI of the need to develop a leadership training program, one which addresses the communication gap between law enforcement and local communities as well as communication issues within law enforcement itself. The NCBI training program is an investment that will improve relationships in your department and in your communities, and can be tailored to fit the unique needs of specific agencies or groups of law enforcement professionals and communities.
The program can be designed as a half-day of instruction, one-day, two-day or three-day workshop and can also be set up as coaching sessions to improve leadership and communication skills among officers, or between officers and community representatives. Participants who will benefit from this training program are city, county, state, and campus police; corrections employees; federal law enforcement officers; detectives; civilian support staff and law enforcement managers; private security officers; and citizens interested in improving how police and community residents work together. Attendees will learn skills to effectively navigate the daily communication challenges of working in an increasingly diverse community. Download our overview brochure of the program here.
Law enforcement employees will learn how to
Effectively engage neighborhood participation in community safety efforts.
Appreciate and work through diverse community challenges.
Improve communication within the department, including within the chain of command.
Identify successful recruitment strategies.
Community members will learn how to
Increase neighborhood participation in community safety efforts
Effectively support local law enforcement professionals for common goals.
Appreciate and work with law enforcement officers to promote community well-being.
A law enforcement-citizen coalition will learn how to
Lead effective trust building workshops, meetings, and community wide forums.
Take a leadership role in block watch meetings.
Provide prevention and crisis intervention programs in the community.
Lead conflict resolution sessions that teach others to find common ground in emotionally-charged issues.
Build authentic relationships between law enforcement and residents so they can call on each other when difficult issues emerge.
NCBI has found there are a number of principles to working effectively with police officers -
The terminology used must be relevant.
NCBI takes live issues that police officers confront daily and teaches skills to handles these incidents in a more positive manner. 
Diversity training is called 'customer service,' and police officers learn how to relate more effectively to community residents by seeing them as clients or customers.
The NCBI training provides an opportunity for law enforcement and community members to think outside of the box and to share histories and experiences in a safe, respectful environment — away from the tensions of everyday life and work. Building upon the professionalism of all the participants and offering a perspective that effective law enforcement depends upon good community relations, the NCBI law enforcement training program encourages everyone to play a part in leading the way toward constructive change.